BioGrowⓇ
BioGrowⓇ products are biologically active mixtures, suitable for protecting and enhancing the growing processes for trees, shrubs, fruits, vegetables, flowers, and other plants. It is not subjected to chemical or thermal treatment; therefore, it contains a full spectrum of natural and ecologically pure materials. HORTIMED products – BioGrow Solid and BioGrow Liquid, while being different in their structure, achieve stable release of nutrients gradually during the plant vegetation period, guaranteeing steady and healthy growth for plants.
Our unique soil conditioner contains billions of useful bacteria that create soil humus for successful growing processes. Thanks to our exclusive product, we can proudly say our HORTIMED Soil Conditioner brings the soil back to life. BioGrow Solid maintains successful nutrient releasing and enhancement processes, achieving stable and great long-term growth performance for plants.
Functions
Creates soil humus
Restores soil fertility and improves its structure
Increases soil moisture content and root breathing
Decreases amount of usage of mineral fertilizers
Improves fruit exterior and taste properties
ACTIVE CONTENT
Medium structure sphagnum peat moss, natural organic materials, limestone
The product contains natural minerals; humic, fulvic and amino acids
Vitamins B1, B2, B9, B12, E, C, D, P, natural enzymes, ferments, mycorrhizal fungi
And good bacteria
CONTENT ANALYSES
Creates soil humus
Organic matter 85-95%
Moisture 55-65 %
pH 5,5 – 6,5
Soil Conditioner is recommended for:
Creating soil humus
Depleted soil
Saline soil
Eroded soils with damaged structure
Soils treated with chemical and mineral fertilizers for a long period of time
Territories located near city roads, industrial zones with the soil polluted with heavy metals
Sandy soil, sandy clay soil with a minimum content of Organic matter
Soil contaminated with pathogenic nematodes
This product is perfect for planting and transplanting selected plants.
Prepare a hole according to root size and growing requirements of the particular plant, shrub or tree.
Mix 1 part of HORTIMED Soil Conditioner and 3 parts of soil and pour to the hole
Saline soil
Water thoroughly after planting
We recommend using our liquid organic fertilizer BioGrow® for watering. It will enhance plant growth, prolong vegetation period and increase vitamin content in fruits, berries, and other plants.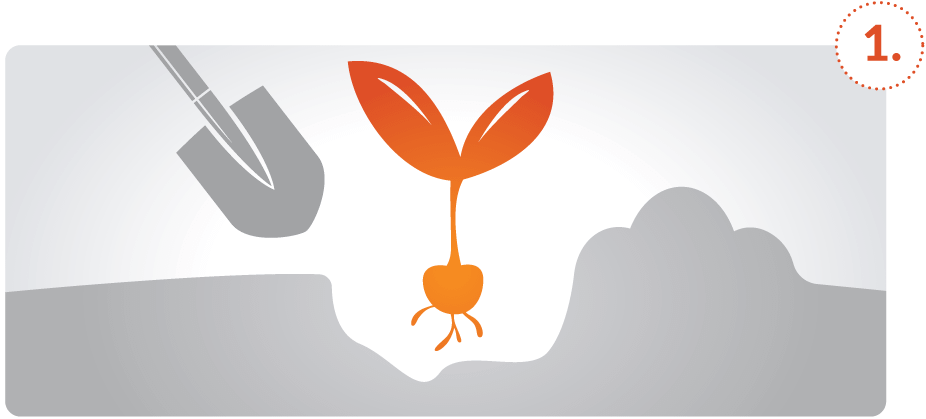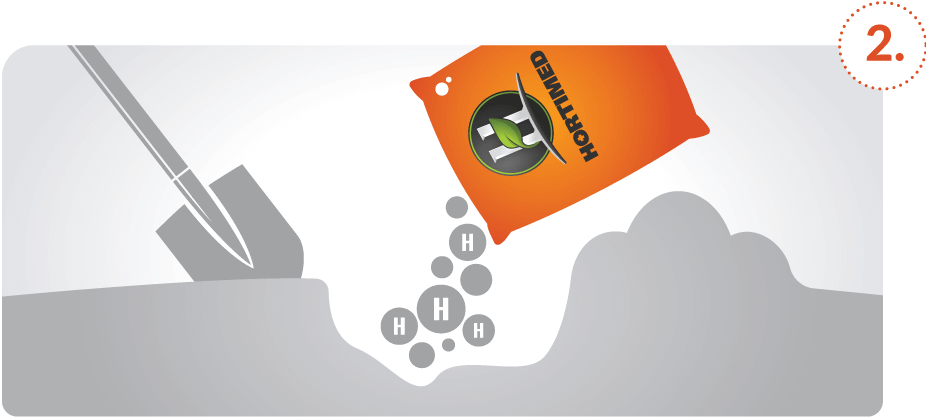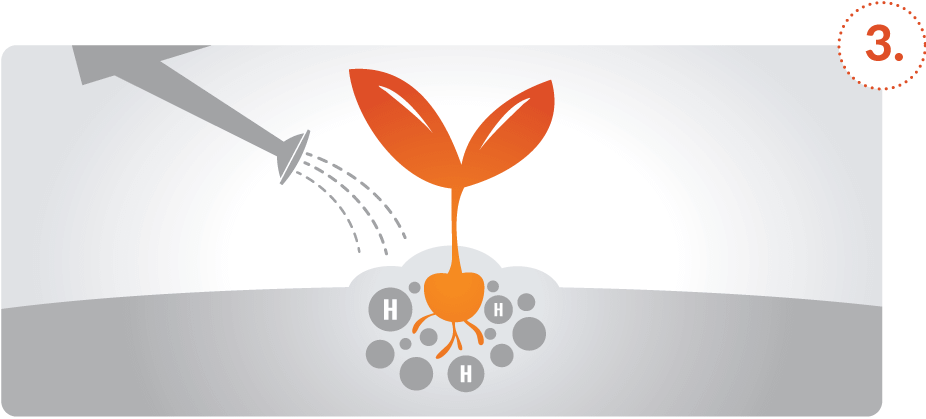 Mix 1 part of Soil Conditioner with 4-8 parts (according to soil organic content) of the soil before planting the seeds or seedlings and watering them. Frequency use: Once per 4 years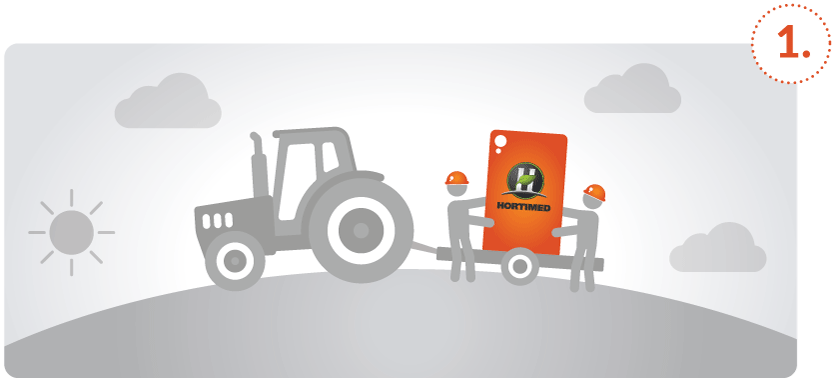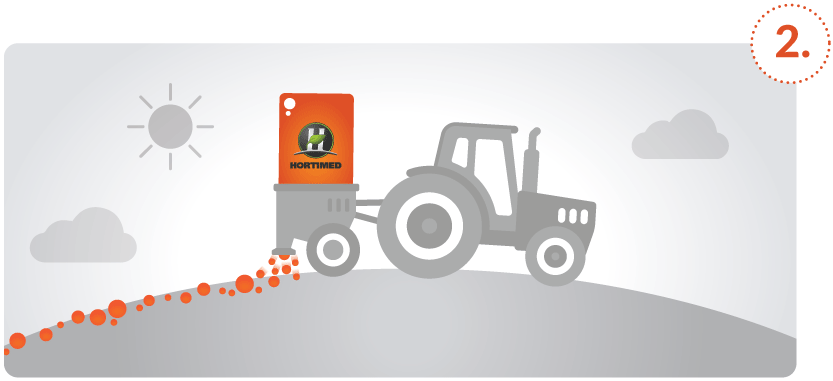 BioGrow® Liquid is an organic, water-soluble, biologically active, concentrated growth enhancer that reduces ripening time and increases growth yield. By using BioGrow Liquid, you can enhance plant growth, as our product contains many organic and pure materials that have been scientifically proven as efficient and sustainable in multiple tests during the years in laboratories and experienced great results on fields.
BioGrow Liquid uses scientifically proven formula that
ACTIVATES

plant growth and development

INCREASES

harvest and effectiveness of mineral fertilizers applied

PROTECTS

plants from diseases, stress and extreme climate conditions
CREATES

humus and improve soil structure

REDUCES

nitrates, radionuclides and heavy metals contents in plants

DECREASES

usage of mineral fertilizers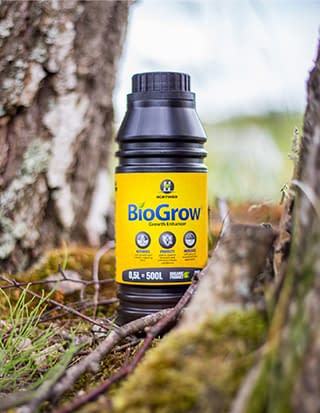 Preparation
Choose a bucket where you want to prepare the solution
Use the dosage table below for correct BioGrow® water proportions

PREPARATION: Initially mix 50ml BioGrow Liquid with 5L of water, then mix both parts accordingly to the dosage table for the end working solution.
BioGrowⓇ
50

ml

100

ml

200

ml

300

ml

400

ml

500

ml

Water
50

L

100

L

200

L

300

L

400

L

500

L
Seed soaking – Seeds are placed in a cloth and then soaked for 10-12 hours in the prepared solution
FUNCTIONS
Sapropel contains natural humic complex - humic, fulvic and amino acids - which significantly improve soil structure and stimulate growth of plants
Sapropel is 15-20 times more effective than any other organic fertilizer
Sapropel creates humus in soil types that have low concentration of natural materials
Specific microorganisms in sapropel can revive dead ground and are able to give it highly fertile properties by forming humus
Freshly extracted sapropel contains active microorganisms, which promote intensive plant growth
Many causative agents of plant diseases are often distributed through organic fertilizers, but there are no pathogenic organisms in freshly extracted sapropel
CLIMATE CHANGE
Global changes affect agriculture in several negative ways, like the nutritional quality of foods and crop yield
Climate change takes place on a global scale
It negatively affects crop production and output, increases the risk of food insecurity
The protein content of the grain decreases under combined increases of temperature and CO2
Increases in CO2 lead to decreased concentrations of micronutrients in crop plants
Higher CO2 levels lead to reduced plant uptake of nitrogen, resulting in crops with lower nutritional value
Erosion and soil degradation are more likely to occur, and soil fertility also is affected
BioGrowⓇ Solid
Advanced peat products
+
BioGrowⓇ Liquid
Advanced peat products
=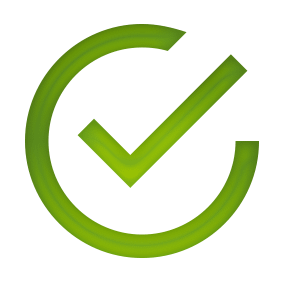 organic farming
Hortimed Synergy